Case Study 1998. Superyacht mast and boom strain sensing
Client
UK Department of trade and industry
Project
AeroRig ® mast and boom monitoring of Yacht Jacquelina. This was the culmination of a three-year project to develop a FBG interrogator, carried out in partnership with Aston University and BAE Systems.
Resolution
Strain and temperature sensors were embedded within the composite mast and boom sections of the 38m free-standing AeroRig ® structure. Data from the sensors were acquired using an OFSSSI interrogator, designed and manufactured by Smart Fibres. In the summer of 1998 Jacquelina was launched and underwent sea-trials. Successful data were collected from all installed sensors.
Date were presented on three levels:
Level 1, real time overview
Each sensor location is indicated by a colour coded square which represents measured strain values as a percentage of maximum design strain.

Level 2, long-term data acquisition
The peak strain data at 1-second intervals is recorded for the lifetime of the structure. This provides comprehensive coverage of all peak and cyclic loads that the structure has seen, giving structural health and usage information. Comprehensive historical strain data can be used for subsequent verification of design parameters. Shown is a typical plot of data collected, showing the response of two mast sensors whilst Jacquelina first motors out of port and then performs a series of tack manoeuvres.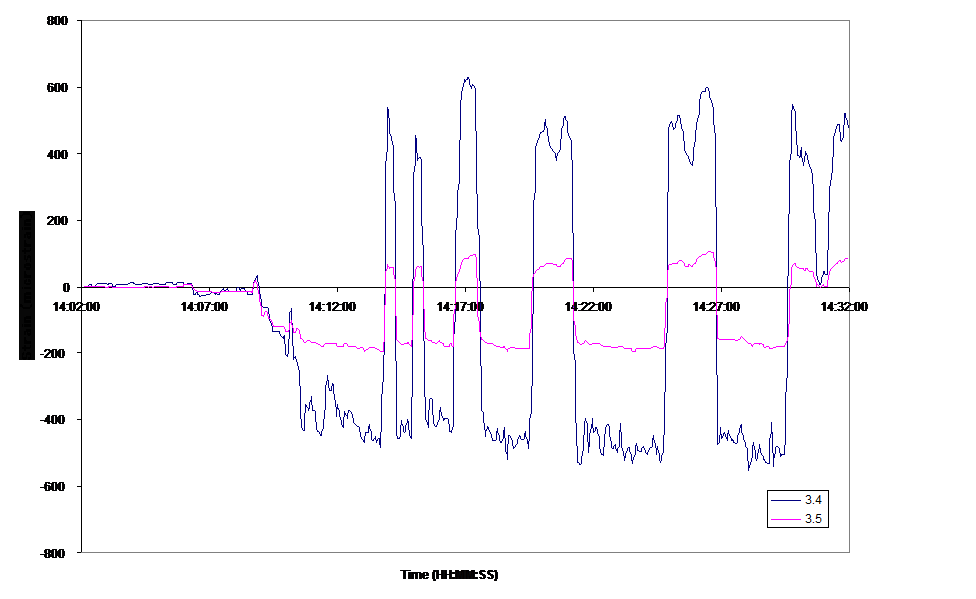 Level 3, 'black-box' mode
In the background whilst Level 1 and Level 2 data is acquired, the system monitors all strains and compares them with a set of 'trigger levels', nominally a small factor above the design strain. If any trigger is set, indicating that structural failure is imminent, then data is stored to memory at high speed so that information about the failure mechanism is available for later analysis.