Case Study 2001. FRP bridge deck bend testing
Client
Californian Transport Authority
Challenge
OFS Instrumentation of composite deck panels during bend tests
Resolution
Two large composite deck panels were instrumented with five sensors per piece. Deck panels similar to these will form a future installation on a major highway bridge in the Long Beach area, and the test set-up mimicked the actual fixing method to be employed on site. Individual sensors were placed to monitor bending strains in each panel (on the top and bottom surfaces) and peel strain at a change of section. It is around this change of section that previous destructive testing has created a failure due to composite delamination of the carbon skin.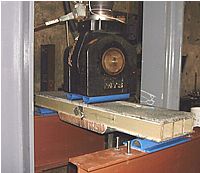 FBG sensors were surface applied to the carbon composite skin in four locations. A fifth sensor was placed at an area of special interest to the Caltrans structural engineers, perpendicular to the surface of the composite where high transverse strains were anticipated.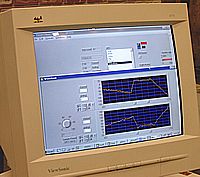 The specimen were tested in the UCI Department of Civil and Structural Engineering. Load was applied using a four-point bend method, increasing linearly until failure of the specimen. Throughout the tests, strains were recorded by Smart Fibres OFSSS I interrogator for analysis by the Caltrans Engineers.